Llama Herd Reduction Sale
See the llamas we have for sale on our
Llama page.
Call for Pricing & Current Availability.
Sycamore Hills Ranch
Robert & Michele Smith
41600 Intrepid Rd.
Hemet, CA 92544
951-767-4516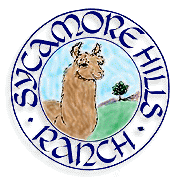 Sycamore's Bolivian Marco Polo
DOB: 12-8-98
SIRE: Excellente of Bolivia
DAM: WO Colima
Taupe with white tuxedo, outstanding presence.
Soft silky fleece; Future herd sire material.
Great Markings.

LW Tillamook

DOB: 1-19-94
SIRE: LW Willie K, Import
DAM: Honey Deer

Outstanding confirmation. Great Personality. Gentle Breeder. Offspring exceptional and very colorful Sheared.


Junior Herd Sire
Bolivian Kona

DOB: 10-23-97
SIRE: Chavito, Import
DAM: Bolivia's Delicate Dawn, Import
Gorgeous! Fine suri like fleece. Awesome presence. Outstanding silver-gray coloring. Great ears. Beautiful correct babies. Impatient to start his career!
Available for Stud.


Future Herd Sire
Treasure's Commodore

DOB: 8-26-98
SIRE: Bolivian Treasure
DAM: TBF Tava

Large, Gentle, Outstanding young male. Tri-colored with fine silky fleece. Great Presence.
Available for Stud.